For SECURITY reasons, Caddo Parish School system employees must
wear a current CPPS ID on their upper body in order to utilize the center.
If your school has IDs we can add TRC access.
If your school does not have IDs we can make you a CPPS ID at the TRC but it will only give you access to the TRC doors.
You may have your school's doors added by having your principal email the security department.
Recently hired employees must be verified via e-mail from your principal,
have hiring papers from Central Office, or have a CPPS email address.
IDs are required & expire in 5 years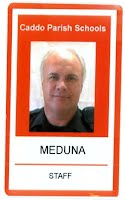 Anyone who is not a CPPS employee will be denied admittance to the center.
This includes family, friends, children, spouses, and parents.
Everyone who is in the center must wear a valid ID on their upper body at ALL times!