Add Money to Your Account
PayPal is now available.
Set up an account using your CPPS ID number (minimum $10.00).
All items with a cost may be paid from this account.
Add money to your account on any computer.
TRC Payment Methods:
School Check

Cash

PayPal/Credit Cards

No personal checks
In order to better assist more people and expedite jobs,
we have NEW options available for your copy and print needs.
The TRC staff will continue to copy a minimum of 25 of an original.
All other printing and copying are self-operated:
B/W, color copies, color paper, cardstock.
This will allow you to copy as few or as many as needed.
You can print from any computer and release your job at any of the 10 available copiers.
Current prices as of January 26, 2018.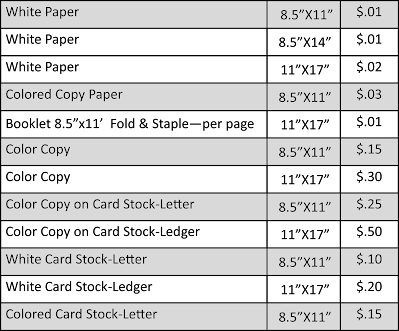 For electronic orders:
(minimum of 25 per original)
Click on reproduction form below

Download

Open

Save to computer

Reopen form as Adobe Acrobat or Foxit Reader

Complete form and save

Attach completed form and original(s) to email

Send email to staffdev-student@caddoschools.org